24 Hour Emergency Dog Clinic Serving Greensboro, Winston-Salem, High Point & Burlington
After Hours Veterinary Emergency Clinic is Greensboro's leading 24 hour emergency dog clinic, providing 24 hour emergency care for dogs at night, on weekends, and on holidays at our West Friendly Avenue practice. Since 1976, AHVEC has provided emergency care for canine patients from Greensboro, Burlington, High Point, Winston-Salem and throughout the Piedmont Triad of North Carolina.
AHVEC is the longest standing emergency dog clinic in Greensboro – should an emergency arise, your dog is in the best of hands at the After Hours Veterinary Emergency Clinic.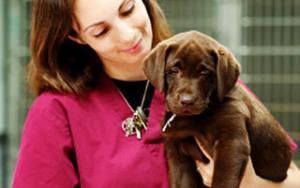 Emergency Veterinary Services for Dogs
Comprehensive Medical Exams
Trauma Care
Emergent Disease Treatment
In-house Laboratory

Complete Blood Count
Biochemical Profiles
Clotting Tests
Thyroid Panels
CpLi (SNAP Lipase)
Parvo ELISA
Heartworm ELISA
Blood Typing
Urinalysis
Microscopy

Fluid Analysis
Fecal Analysis
Blood Analysis

Diagnostic Imaging

Radiology
Ultrasonography
Contrast Studies

Endoscopy
ECG (electrocardiogram)
Blood Transfusions
Anesthesia
Emergency Surgery
Surgical Monitoring
Major and minor wound care and repair
Pain Management
Oxygen Support
In- house Pharmacy
Hospitalization
Micro-chip identification